Steven Havemann - 2001 BDC Graduate
Steve Havemann is the Executive Director of St. Vincent de Paul of Des Moines, and President of Ask, Listen, Hear training and development.  Through this work, Steve aims to help others think, and act, more positively and productively.  This work resulted in the publication of his first book, The Excellent Persuader.  Steve has served as an officer in both public service and Board of Director roles, and is a graduate of Leadership Iowa.
With a background that includes working with individuals with barriers to success, Steve has worked to grow St. Vincent de Paul by over 100% in his first year, raising over $1,000,000 for the charity.  A native of Des Moines, he graduated from Central College with a degree in Communications and Political Science, and earned his MSEd at Drake University.  Steve believes that "Progress is not the advancement of technology, but rather the development and evolution of people."
Marcy Fox - 2001 BDC Graduate
Marcy Fox began her training at the Paula Brekke School of Dance at the age of 8 and has never looked back! Upon graduation she moved to the university of Nevada Las Vegas as a dance major. Landing her first professional show "Airplay" at 19 she has since been in more than 20 shows on the Las Vegas Strip and around the world. She has choreographed multiple shows for Even Stephen Productions both on land and on cruise ships, and is currently performing at the Stratosphere in "MJ Live." Some of her favorite show credits are; "Buckwild" "Show in the Sky" "Bite" "Magic of Rick Thomas" "Voices" and being a resident dancer for Calvin Harris, Aoki, and The Weekend. She has since started her own company Dancetinations offering custom Las Vegas dance camps and digital critiques for competing dancers! One jazz class in Desert Moines, Iowa changed her life and gave her a start in living her dream!
Jessica Ermler - 2011 BDC Graduate
Jessica Ermler graduated from Carlisle High School in 2011. After dancing for Miss Paula for 16 years, Jessica danced for Northwest Missouri State University, placing 6th in the nation at UDA Nationals before transferring to the University Nebraska-Omaha where she ended her college dance career with a 3rd place national team finish. While living in Nebraska, Jessica also danced for the UFL Omaha Nighthawks. Jessica graduated from the University of Nebraska-Omaha with a degree in Gerontology and a concentration in sign language. Currently, she is living in Kansas City obtaining her Masters degree in Social Work at the University of Kansas. After graduation, Jessica plans to do in-patient therapy and teach dance at a local studio or high school. 
Kara Cipperley - 2013 BDC Graduate
Kara Cipperley is a recent graduate from Iowa Central Community College where she earned her AA while being a student ambassador and a member of the Small Coed National Champion cheer team. Kara is currently a junior at Iowa State University majoring in Biology as she continues to cheer as a member of the All Girl squad. Along with cheerleading, Kara is a member of Delta Gamma Fraternity. After her undergrad, she hopes to continue her education and obtain a PharmD.
Amanda Morrison - 2014 BDC Graduate
Amanda Morrison is currently a junior at the University of Kansas, majoring in Dance (BFA) and pursuing a certificate in Entrepreneurship. She has been involved in several student produced shows as well as the University's company shows. She is currently teaching musical theatre at a local studio, and she hopes to join a modern or contemporary company after she graduates in May 2018.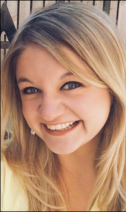 Taylor Pullium - 2014 BDC Graduate
Taylor graduated from Brekke Dance Center in 2014 after dancing there for fifteen years. Following graduation, Taylor went on to Iowa State University to study Elementary Education. In the middle of her sophomore year, Taylor decided to apply for the Disney College Program. After an extensive application process and a dance audition in Chicago, Taylor earned her spot in Walt Disney World's Entertainment department as a Character Performer. For her role, Taylor "befriended" several beloved Disney characters and had the opportunity to dance in shows and parades in Walt Disney World's Magic Kingdom for an entire semester. After enjoying her magical experience, Taylor returned back to Iowa State University and is currently enjoying furthering her degree in Elementary Education with plans to graduate in 2018.
Kalina DuBuc - 2014 BDC Graduate
Kalina DuBuc is in her final semester at the University of Tampa and will graduate in May with a Bachelor of Arts degree in Applied Dance with a Psychology minor and an additional focus in Education. Since beginning her undergraduate career, she has performed in many dance concerts; choreographed for student-lead shows; participated in her professor's two-year choreographic research project; engaged in volunteer work; and is currently senior captain of the Spartan Scarlets dance team. Kalina also teaches and choreographs for recreational and competition team students at a local dance studio in Tampa. She has been fortunate enough to attend multiple state and national dance education conferences, and recently presented her research on the benefits of brain-compatible dance for eating disorder recovery at the National Dance Education Organization Conference in Phoenix. Kalina began her professional career dancing in two seasonal shows at Tampa's Lowry Park Zoo, and she looks forward to attending upcoming auditions in the hopes of continuing a performance career post-graduation. Kalina eventually wishes to pursue a career in dance movement therapy and dance education, and she could not be more excited to continue chasing her dreams and living a life focused around sharing her love for the art of dance with others.
Are you a Brekke Dance Center Alumni and want to share what you've been up to? Email Courtney here!